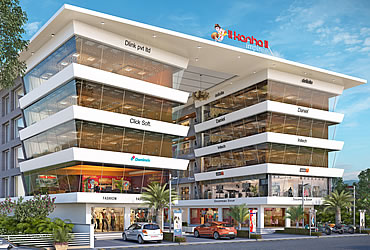 Kanha Empire. Heven is place of enternal happiness, where the soul experiences inner peace and solace. When we think of Heaven, we wish and dream for a place that resembles a Heaven on Earth.

we at Kanha Empire are all geared up to make this dream, a dream come true. For us, your desires are our first priority and we take great pleasure in enhancing our quality services to make them more to your liking.
Right from the quality of materials, design and premium amenities, and each aspect of this commercial space has been meticulously planned and adroitly executed.
Strategically located in heart of the bustling city, Kanha Empire charms your senses eith its breathtaking design that attracts maximum footfall especially with its dazzling facade that is an architectural marvel.A perfect destination for shops, showrooms, offices, restaurants and much more!
Building Features
Elegant wide entrance lobby.
Water Body, flower beds and sitting areas
Six High tech automatic elevators.
Central CCTV Security system for the complex.
Sufficent parking at two leavels of basement floors.
Complimentary Allotted car parking for all the units.
Power backup for complex common utilities and elevators.
Shops have 12' ft. and Offices have 11' ft. Clear height.